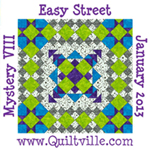 I was beginning to think I would never finish this bad boy, but I can finally say it is a flimsy!!
This is it hung over the railing. It was too large to get a picture of the entire quilt. I love the outer border; it brings out the turquoise in the quilt and quiets down the lime green. It finished close to 100 x 100 inches.
The best thing about it is that it is finished. It will be shown at show and tell tomorrow night at the monthly Sand Stitchers business meeting, then its off to the quilter.
Can you spell happy?
Sandra