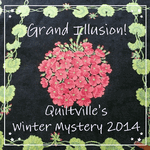 Christmas at our house was on Christmas night, so when I got up Friday morning I had nothing better to do than to go and check out the next clue. Food had been put away or packed up and carried home by the kids, dishes were washed, and the house was cleared of all the clutter. I am not one for after Christmas shopping so I settled in and cut and sewed all of Clue 5 on Friday before noon.
This allowed me time to complete Clue 4 and -- ta da -- I was caught up on this mystery for the first time.
Clue 5
In addition to being caught up on the mystery clues, I have cut out and sewn a lap size quilt for my youngest granddaughter. She told her Mom that she needed a cuddle quilt, so I set about making her one. I'll try to post a picture of the top tomorrow, when the light is better.
Hope everyone had a marvelous Christmas.
~Sandra