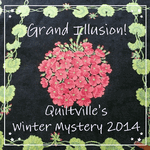 I can't believe it but I am actually caught up with all the clues. This is a first for me. I completed Clue 4 on Sunday, December 21, thanks to copious sewing on Saturday and Sunday. Then I went back to Clue 3 and in between grocery shopping, last-minute Christmas shopping and who knows what else, I finally finished Clue 3 around 6 pm last night.
All 80 of Clue 4:
Looking at this picture, it does not look like the amount of work that it actually took. Cutting, sewing parts together, pressing, adding more pieces together, pressing again then trimming - a lot of effort that will eventually go together to make a beautiful quilt.
Today will be spent making desserts for tomorrow. My family will not arrive until late Christmas Day so I will have tomorrow to do all of the cooking for tomorrow night.
Merry Christmas to all of my family, friends and fellow Bonnie Hunter Grand Illusion Mystery Quilters.
Hugs,
~Sandra